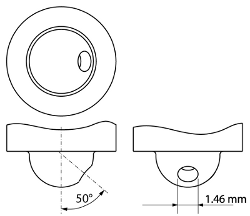 Operating Conditions – DI-H2ICE Sandia
With fuel injection:
Air mass flow = 7.03 [g/s]; or 0.5624 [g/cyc].
Fuel mass flow = 7.8463 [SLPM]; or 0.00436474 [g/cyc]
Equiv. Ratio = 0.265;
Injection Pressure = 100 bar;
Intake Pressure = 100 kPa;
Engine Speed = 1500 RPM;
Bulk Gas = Nitrogen
Temperatures:
Cylinder wall, piston, head, and valves set to 353.15 K.
The initial temperature and the intake gas temperature set to 309.15 K.
Pressure traces: use the 1h90c140_99.7kPa_anl.xls file
Injection Details:
Jet Orientation (b) = 90° (towards the intake valves, see Fig. 2 below)
SOI = -140°CA (Nominal)
SOIactual = -137°CA (Actual, see Fig. 1 below)
Injection Duration = 17.5°CA
Ramp-up: 1°CA
Ramp-down: 1°CA
NOTE: Because we do not measure the Needle Lift profile, the profile of Fig. 1 (ramp-up and ramp-down) was generated. This profile is currently being used by ANL and LLNL.
Without Fuel injection:
Intake pressure = 100.45 kPa, (the target was 100 kPa)
Engine Speed = 1500 RPM
Mass Flow = 7.10 [g/s]
number of averaged cycles = 200 cycles
Bulk Gas = Nitrogen (100%)
Temperatures:
Cylinder wall, piston, head, and valves set to 353.15 K.
The initial temperature and the intake gas temperature set to 309.15 K.
Pressure traces: use the mot_100.45kPa_anl.xls file